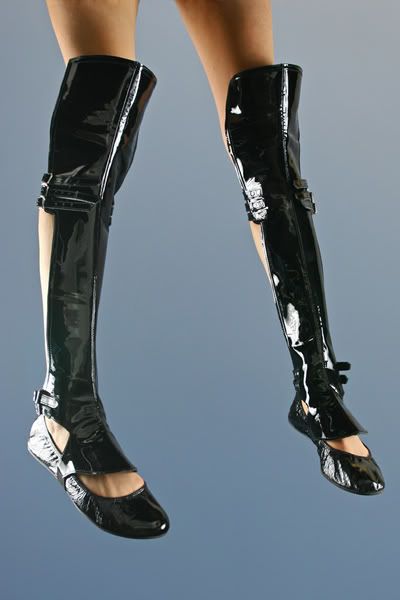 Hello ladies and gents. Yes, I know its been a while, but like 50 Cent said, " Yeah, I've been gone for a minute, but I'm BACK!" Of course, I'm back with another of my notoriously insane fashion rants... And this time, we're talking shoes (because shoes are perhaps every woman's kryptonite.) But then again, how could they not be when they can make or break your outfit. I think Sex and the City fans can all recall sympathizing with Carrie when she uttered the words "I've spent $40,000 on shoes and I have no place to live? I will literally be the old woman who lived in her shoes!" But her tragically-humorous dilemma actually made a pretty accurate statement on women and how we will drive ourselves into massive, paralyzing debt just to look posh in the newest pair of sky-high, YSL pumps.
But the question I have to ask is "why should we have to?" I know that fashion is art, and people must suffer for their art-- but isn't that a burden that the artiste is obligated to bare? Well, L.A. duo Marylouise Pels and Vanessa Giovacchini have taken a classic accessory (the spat), and made it into an instant wardrobe booster.

Posso the Spat is a collaborative effort, spawned out of necessity; "When you look at the runway (you look at Givenchy, Balenciaga), and they're all doing gladiator, high-style shoes," Marylouise tells me. "And this is a way to get that look for a fraction of the price. " Because let's face it, most of us aren't rolling in enough bank to be able to go out and buy a new pair of Manolos as we so please.

I'll be the first to testify that they can transform your typical, run-of-the-mill, shoe, into something pretty bad-ass! Although they may seem too editorial for the typical person, they're aimed towards the adventurous fashionista, so that's a non-sequitur. But what is relevant is how not only can they effortlessly revamp your shoe collection, but how they're functional even in the brisk, New York City Weather; "Coming from California, this is just sort of a superfluous, fun, accessory (like a bracelet, or a necklace is,) but here, it actually keeps you warm," says Pels. Which I found to be true in wearing them on a freezing January afternoon (and those were just the leather ones!) Their Fall 08 collection, however features wool spats (think legwarmers-- if they weren't played out.)
In the months to come, these lovely ladies will even be releasing a clothing line. And if the collection's point of view is anything like Marylouise's funky style, and the girls' too cool accessories line, you can put me down for one of everything! And don't worry if you can't make it to L.A., the label is stocked by notorious hipster outposts like Seven and Oak in Soho (and yes, of course, they have some old school, Michael Jackson in "Smooth Criminal," style spats, too.)-Virginia Jackson-Reed